From travelling cutler to industrial enterprise
Jores grinding technology through the ages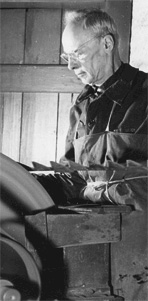 The grinding technology of Paul Jores GmbH has a deep-routed tradition, dating back to the 14th century.
From the earliest days on, Paul Jores' ancestors were masters of the art of grinding and were experts in cutting tools of all sorts. Both their passion for and their mastery of special grinding techniques have been passed on from one generation to the next for centuries. As travelling cutlers and tooth pullers, early on these regional pioneers of grinding technology established their trade's excellent reputation and with his first establishment in Sobernheim, Peter Jores gave the art of grinding a permanent home in South-West Germany..
Perfect craftsmanship meets innovative industry
The passion continues
Josef Jores kept with the tradition and passed the family's grinding expertise on to his son Paul. At the age of 24 Paul took over the company and led the family's well-established trade into a modern-day precision grinding enterprise. Between 1970 and 1975, the company's artisanal grinding technique opened itself to numerous innovations and the family enterprise changed into a company with a clear focus on industrial customers meeting all contemporary demands.

In the 1970s and 1980s, Paul Jores continued to expand the company and completed its surface finishing machinery by introducing surface grinders with magnetic clamping plates. This was the first step in bringing in modern equipment, a tradition continued in the 1990s by Paul's sons Torsten and Pascal who then included double-side through-feed face grinding into the portfolio. Fine grinding with CBN and diamonds followed.
Expansion into the new millennium
21st century fine grinding
Since 2003, Paul Jores GmbH has kept refining its grinding technology while at the same time increasing efficiency. As a result today, the company operates 16 state-of-the-art fine-grinding machines and 16 state-of-the-art double-side through-feed grinding machines which all deliver superior and unsurpassed quality our customers regularly rely on. Our customers include major automotive industry system suppliers and their sub-suppliers, the world's largest manufacturers of bearings and the world's leading builders of printing machines and woodworking machines. In 2015, the company extended1 its surface finishing equipment by another machine, today totalling 33 top-notch machines.